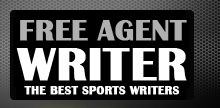 Yankee Addicts
Categories
Featured Sponsors
News published by
March 25, 2011
There have been recent reports that the Cleveland Browns may be interested in trading down in the first round of this year's NFL Draft. Mike Holmgren recently said the team is ...
March 23, 2011
When Mike Holmgren became the football czar of Cleveland, we all new that serious changes were on the horizon. Fans were all excited to have a proven winner calling the ...
March 16, 2011
I wasn't planning on posting this article for another couple weeks, but I just couldn't help myself. I've already posted several mock drafts for the Browns, adjusting each time for new ...
March 4, 2011
So now that the 2011 NFL Scouting Combine is over, we all have a crystal-clear picture of what will transpire come draft day, right? Well, maybe that's a stretch, but ...
March 4, 2011
Every NFL offseason brings with it a seemingly endless supply of hyperbole and speculation. Fans everywhere delusionally convince themselves that their team will be signing every big-name free agent that will ...
February 10, 2011
Today, the Cleveland Browns new head coach Pat Shurmur made his first mark on the teams roster by cutting six veteran players. The move was almost anti-climatic, as it's been widely ...
January 28, 2011
Per a report from Jeff Howe of NESN, the Arizona Cardinals might be open to trading Larry Fitzgerald if the price is right. Fitzgerald is entering the last year of his ...
January 21, 2011
The Cleveland Browns new head coach Pat Shurmur sure has his work cut out for him. He has to implement a new coaching staff with new systems with a roster ...
January 4, 2011
Now that the 2010/2011 NFL season has concluded, the draft order for the first 20 picks in the upcoming 2011 draft have been decided. The Cleveland Browns will draft sixth ...
December 28, 2010
Another Sunday has passed with yet another Browns defeat. And yet, I see hope still sailing to shore on the deep horizon. It certainly was not the prettiest game the ...