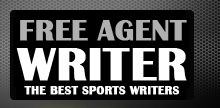 Yankee Addicts
Categories
Featured Sponsors
News published by
April 30, 2011
The Detroit Lions rounded up their final 2011 draft picks with OLB Doug Hogue and OT/G Johnny Culbreath. With these picks, we now have addressed the need at OLB and ...
April 22, 2011
Injuries are a part of the game of football that nobody likes.  They can make or break a team and even be downright frightening to watch at the fan level.  ...
April 9, 2011
If you haven't heard yet, the Detroit Lions are making some noise on NFL Network's "Total Access".First it was Defensive Rookie of the Year, Ndamukong Suh, who took to the ...
April 3, 2011
It has been big news in the Detroit Lions world that the front office was accused of tampering by the Kansas City Chiefs in December 2010. By February, the NFL ...
March 28, 2011
If you were to ask Detroit Lions' fans who they wanted to see stay healthy this season, Matthew Stafford's name would be heard from every mountain top, every valley and ...
March 24, 2011
With everything in the NFL up in the air, including the draft this year, Detroit Lions head coach Jim Schwartz had to prepare for every scenario, including a possible lockout. ...
March 22, 2011
It is known by Lions fans that outside linebacker is a position of need this season with the release of Julian Peterson.  Many have the Lions picking his replacement in ...
March 21, 2011
It has been a long, long time since anyone has had hope for the Detroit Lions. It isn't because we haven't had good or even great players (Barry Sanders) in the ...
March 18, 2011
Everyone is trying to figure out how this draft is going to shake out for each of the 32 teams in the league.  We are getting tired of the bad ...
March 5, 2011
The Detroit Lions coaching staff have made their decisions on who to offer tenders.They, like many teams during this CBA, have held their hands close to the chest leaving many ...