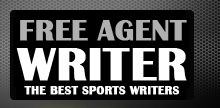 Yankee Addicts
Categories
Featured Sponsors
News published by
March 11, 2010
Bruce Gradkowski is "punctual." That's the word used by KNRB 680/1050 AM's The Razor and Mr. T Show. "We are a good football team and the only thing we have to ...
March 9, 2010
The former Raider and penalty-prone offensive tackle Cornell Green has signed a three-year, $9 million contract with the Buffalo Bills, according to Raiders beat writer Patrick Patterson. Green was a favorite ...
March 7, 2010
The Oakland Raiders are in no rush to sign anyone of the remaining unrestricted free agents in the league. They did, however, make a move to sign one of their ...
March 5, 2010
"I'm going to attempt to drown myself...You can try this at home...You can be just like me." Eminem-1998 When Al Davis heard this line come out, he said, "Yo, that is ...
March 3, 2010
Allow me to be the first to welcome the 2010 Oakland Raiders draft class into your living room. There will no doubt be surprises this year, the draft is deep. ...
March 2, 2010
Tom Cable spoke to the media from the scouting combine on Sunday, addressing several topics on the Oakland Raiders upcoming season. Reporters at the combine started the conversation off on ...
February 28, 2010
Heading into the 2010 NFL combine, many people said Bruce Campbell was the fifth best talent at OT in the draft this year. Coming out of the combine, the Oakland ...
February 23, 2010
Raiders head coach Tom Cable thinks his team is ready to take the next step towards becoming that playoff team that they want to be. Trouble for him and his team ...
January 9, 2010
I'm going to give you a solution to a problem that has been agonizing to fans for the past several seasons. Follow my steps and you'll be on the quick ...