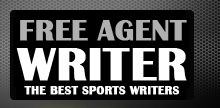 Yankee Addicts
Categories
Featured Sponsors
News published by
June 3, 2014
When it comes to quality quarterbacking in the NFL, too much is never enough.  Unless you're the Kansas City Chiefs, in which case, over the past two years, you've hoarded them ...
May 11, 2014
If you walk up to Canadian offensive tackle Laurent Duvernay-Tardif and end your introduction with a mocking, "Eh?", your life's list of regrets will need another page.  There's no doubt that ...
May 7, 2014
Unlike last year, Kansas City Chiefs fans enter the 2014 NFL draft with equal doses of cluelessness and curiosity. However, the team is branding its name on just as many ...
November 23, 2013
It doesn't matter what else is listed on my program guide: If Philip Rivers is playing, I'm shunning every other channel like it's Sloth from The Goonies.  Floyd Mayweather just knocked ...
November 19, 2013
If you honestly thought the Kansas City Chiefs were destined to pen a perfect season, feel free to put down your coconut, hop in a raft, depart Fantasy Island and ...
September 14, 2013
Off the top of your head, which offseason acquisition was the most critical for the Kansas City Chiefs? Andy Reid? John Dorsey? Alex Smith?  The lion's share of Arrowhead aficionados could ...
July 30, 2013
Football oozes with a brand of action that holds retinas hostage and packs enough suspense to send Ben Stein into cardiac arrest.  Last season, the Kansas City Chiefs' highlight reel looked ...
July 5, 2013
"Childhood" is a relative term, but whether juice or beer, you've washed stains from a number of Kansas City Chiefs jerseys.Arrowhead's extended family wear their hearts on their sleeves—it's no ...
June 21, 2013
The Kansas City Chiefs are demigods, football is a religion and Arrowhead Stadium is the athletic mecca of the City of Fountains.In Kansas City, it's that simple. Arrowhead houses roughly 80,000 ...
June 1, 2013
Since Andy Reid's hiring, the head coach's shakeups to the Kansas City Chiefs roster have regularly ambushed sports tickers. With free agency waning and the NFL draft in the rear-view, ...