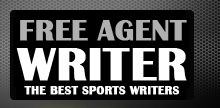 Yankee Addicts
Categories
Featured Sponsors
News published by
August 16, 2010
I love football. I've been obsessed with it since I was a little tike. The sights, sounds, and smells of the game, the orchestrated violence, the smash-mouth ballet, all of it appeals ...
July 22, 2010
The quarterback is the glamor position in the National Football League. And for good reason. He is responsible to know, not only his own offense better than anyone else, but what the ...
July 7, 2010
Some things are just perfect together. Like peanut butter and jelly or apple pie and the Fourth of July. Another perfect combination is football and television—a duo that was made for each ...
June 24, 2010
Back in the old days, a spoiled, crybaby athlete was a rarity. There was no such thing as free agency and big, multi-million dollar contracts never happened—not even for elite athletes. That ...
June 2, 2010
Hall of Famer George Blanda set the standard in the NFL for playing solid football past what's considered one's prime. For those not in the know, Blanda was a quarterback ...
May 24, 2010
Last week we looked at six teams who could crash the NFL playoff party in 2010. This week we'll examine four playoff teams from a year ago who could fall off ...
May 17, 2010
Every new season in the National Football League brings with it renewed hope and optimism for franchises looking to burst through the playoff bubble. And most of the time it does ...
May 10, 2010
The JaMarcus Russell experience is over in Oakland. After wasting more than $39 million for only seven wins in 25 starts over three years, the Raiders released the top overall pick ...
April 21, 2010
The NFL Draft is the ultimate in gambling. Big money can be spent on a top draft pick and if that pick busts, not only is money wasted, but jobs are ...
April 19, 2010
This is one of the weakest linebacker classes, especially on the inside, in this decade. There are some decent pass rushers in the lot, but not many traditional 4-3 linebackers with ...