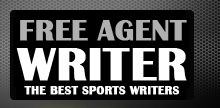 Yankee Addicts
Categories
Featured Sponsors
News published by
May 22, 2013
The Washington Redskins backfield has been anything but consistent in recent memory. With the addition of Mike Shanahan at head coach, the Redskins began embracing Shanahan's new affinity for late-round ...
March 26, 2013
The Washington Redskins entered the 2013 free-agency period with a certain expectation for loss. With another $18 million of lost cap space, the team was pressed for cash and would ...
March 23, 2013
Every year we try to forecast the next wave of "sleepers" for the upcoming season; the group of players flying below the radar but still produce at elite levels. The ...
January 27, 2013
The 2013 Senior Bowl is in the books, and there was no shortage of noteworthy performances. The South triumphed over the North 21-16, but the score is irrelevant for NFL ...
January 2, 2013
The season is over for 20 NFL franchises and the wave of offseason changes has already begun. Black Monday has come with a multitude of front office and coaching changes, ...
December 8, 2012
The Washington Redskins propelled themselves into playoff talks this week with a close victory over the New York Giants. As the final seconds ticked off the Jumbotron that read 17-16, ...
August 21, 2012
Well fans, we are halfway through the preseason, and already we are getting a peak at what the final 53 will look like. While it may not seem like it, ...
August 18, 2012
Welcome to the Bleacher Report live blog for the Week 2 preseason game between the Washington Redskins and the Chicago Bears. This should be an exciting game as we will ...
August 8, 2012
The Redskins come into this year with an underrated defense and a potential saving grace in Robert Griffin III. The 2011 Heisman Trophy winner provides a long overdue air of ...
August 1, 2012
The regular season is not here yet, but NFL Training Camps have begun and have suspense building early. The fans in Washington are particularly antsy for live action to see ...