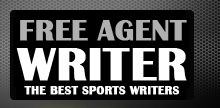 Yankee Addicts
Categories
Featured Sponsors
News published by
November 8, 2010
As the Broncos ground game remains grounded through the first eight weeks, the Patriots defense proved Sunday that the former Broncos back Peyton Hillis has not. Hillis is currently 11th ...
October 29, 2010
So the title may be slightly misleading in regards to what this article is actually about, which is Josh Mcdaniels and his job security. As long as Tebow hasn't failed, ...
October 18, 2010
I didn't get the opportunity to see the Denver Broncos first field goal attempt, as I was proudly parading around the San Diego Zoo in my Broncos gear. What I ...
August 28, 2010
As the Denver Broncos enter week three of the preseason without a victory, fans are still left with plenty to ponder concerning the start of the regular season.Although preseason records ...
August 23, 2010
After Tim Tebow made his NFL preseason debut at Cincinnati, there were a lot of mixed reviews concerning his style of play. After learning that he may have injured himself on that ...
April 30, 2010
Now let me clarify a few things before we move on. First, I am a Denver Broncos fan. Second, I support McDaniels in every decision he has made. Third, I ...