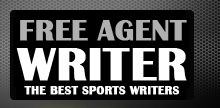 Yankee Addicts
Categories
Featured Sponsors
News published by
February 9, 2011
Ryan Clark saw it coming. He was playing deep off the ball, covering half of the field, reading the eyes of Green Bay quarterback Aaron Rodgers.  It wasn't an obvious passing ...
February 1, 2011
Well, it's almost time.  The Pittsburgh Steelers and Green Bay Packers arrived in Dallas earlier today.  Most of the media is already there.  It's officially Super Bowl Week, and we ...
November 22, 2010
In the waning moments of a game in which the Pittsburgh Steelers were losing to the New England Patriots last Sunday night, NBC's Cris Collinsworth hit an important point when ...
November 15, 2010
Well, another Patriots-Steelers game is in the books.  The two teams have never played in the same division and didn't cross paths in the playoffs until 1997.  But over the ...
March 23, 2010
Welcome to Week Three of The Young and the Roethlisberger, the riveting soap opera set in a small backwoods town somewhere in Georgia.  The leading roles belong to a world ...
January 7, 2010
In Miami last weekend, the Pittsburgh Steelers 2009 season came to a fitting conclusion in the waning moments of the final regular season game—Ike Taylor intercepted a pass.   It was his ...