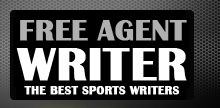 Yankee Addicts
Categories
Featured Sponsors
News published by
February 17, 2016
NFL draft discussions are always more interesting when there's a legitimate debate about the top quarterback in the draft. The Jameis Winston vs. Marcus Mariota debate was intriguing in 2015, and ...
February 15, 2016
With Super Bowl 50 firmly in the rearview mirror and February's NFL Scouting Combine approaching, the first postseason draft projections are beginning to take shape. There's a legitimate battle for the ...
February 5, 2016
North Dakota State Bison quarterback Carson Wentz is the hottest name in NFL draft circles. The 6'5" 232-pounder didn't attend a Division I school, but most talent evaluators believe he ...
February 1, 2016
Who you got in Super Bowl 50?If you're having a hard time picking a winner, perhaps you'd like to know that the official EA Sports Madden NFL 16 simulation predicts ...
January 25, 2016
Almost no one gave the Denver Broncos a chance to beat the New England Patriots in Sunday's AFC Championship Game, but Peyton Manning and a furious defense pulled off the ...
January 25, 2016
Cam Newton and the Carolina Panthers are going to Super Bowl 50. On Sunday, the likely league MVP led his team to a 49-15 rout of the Arizona Cardinals in ...
January 21, 2016
The final four teams are in place for the NFL's conference championship weekend, which means the 28 other teams in the league can focus their full attention on the offseason. ...
January 15, 2016
The NFL's version of the Elite Eight are set to battle for four spots in the conference championships on Saturday and Sunday. The byes are over, and the pretenders have ...
January 13, 2016
The pretenders have been sent home for the winter, and the final eight NFL teams are left to battle for a right to reach and win Super Bowl 50 on ...
January 13, 2016
With the Alabama Crimson Tide locking up yet another national championship on Monday night to make it four in seven years, the college football season is officially over. For the ...