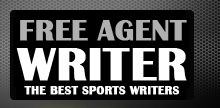 Yankee Addicts
Categories
Featured Sponsors
News published by
July 26, 2010
So the long-awaited week of training camp has arrived, and come Saturday, current Packer greats like Aaron Rodgers, Donald Driver, and Charles Woodson will strap on the pads and take ...
July 25, 2010
Training camps across the NFL will open at various points this week, including the Vikings' camp in Mankato, Minn., this upcoming Friday. Of course, Brett Favre will not be there. Instead, Favre ...
July 20, 2010
So, now that "The Decision" has "Been Made," sports fans can finally turn their attention to where it should be: Brett Favre. Juuuust kidding. I'm talking about training camp, which is ...
June 23, 2010
Aware of the Green Bay Packers' secondary deficiencies as I am, the news that the team's third corner, Tramon Williams, would be reporting to mandatory minicamp this week came as ...
June 11, 2010
As with all other Packers news, some people took the Brandon Underwood-Lake Delton controversy as an opportunity to call for general manager Ted Thompson's head. The logic went: Thompson failed to ...
June 4, 2010
The day is so close I can already faintly smell the bratwurst and sauerkraut, taste the cool Miller sliding down my throat, and even hear the crowd in what can ...
May 26, 2010
When NFL owners voted on Tuesday to hold the 2014 Super Bowl in East Rutherford, N.J., it signaled a climatic paradigm shift for the sport's biggest game. It also signaled stupidity. By ...