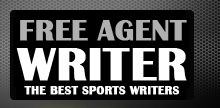 Yankee Addicts
Categories
Featured Sponsors
News published by
September 22, 2010
  The San Fransisco 49ers are new at this. They are uncomfortable in this type of unfamiliar territory.   Although they played a home game against the New Orleans Saints, the 49ers were in ...
September 19, 2010
Over the course of a 16-game NFL schedule, lots of strange things can occur.Every team has one game where everything goes right. Every team also has one game where everything ...
September 1, 2010
The Jeff Garcia era had ended just as quickly as it had begun. Garcia's play was declining, just as his contract was expiring.   The 49ers, rightly or wrongly, decided that they ...