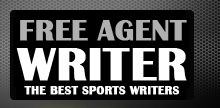 Yankee Addicts
Categories
Featured Sponsors
News published by
April 24, 2011
The 2011 NFL Draft is less than a week away, and it's time for an updated mock draft and a look at the first round.The Panthers will set the tone ...
April 23, 2011
The Chiefs are coming off of their first playoff appearance since 2006 and their first AFC West title since 2003, so this draft will be important in helping Kansas City ...
January 9, 2011
The Seattle Seahawks pulled off one of the biggest upsets in NFL playoff history on Saturday when they took down the defending Super Bowl champion New Orleans Saints.Very few people ...
December 11, 2010
Kansas City Chiefs backup quarterback Brodie Croyle doesn't have to play Superman for the Chiefs to walk out of San Diego with a win on Sunday, Croyle will most likely ...
October 27, 2010
Many people have doubted the Kansas City Chiefs this season, and many people still doubt the Kansas City Chiefs, but I have never been one of them. This team is ...
October 20, 2010
Falcons corner back Dunta Robinson laid a jarring hit on Eagles wide receiver DeSean Jackson over the weekend, leaving Jackson with a concussion and putting him on the shelf for ...
October 10, 2010
The 1972 Miami Dolphins are safe once again after the Kansas City Chiefs suffered their first defeat of the season in a hard fought 19-9 loss to the Indianapolis Colts. The ...
September 22, 2010
New Orleans Saints running back Reggie Bush is expected to miss six weeks after breaking his right fibula in Monday night's win over the San Francisco 49ers. So will Bush's injury ...
September 20, 2010
The NFL's second week of action proved to be a good one for the AFC West as every team in the division improved their record with a win.Oakland and Kansas ...
September 1, 2010
If Brandon Spikes career as a football player fails, he can always go into movies. Well, not those kinds of movies. The Patriots rookie linebacker out of Florida is being investigated by ...