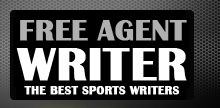 Yankee Addicts
Categories
Featured Sponsors
News published by
April 6, 2011
As we are all more than aware, the NFL is currently in a "work stoppage." It's an odd term to use considering there's no real work for players, coaches, referees ...
October 10, 2010
The widely popular sports-based website/blog, deadspin.com has broken perhaps its biggest story to date—the growing Brett Favre sexual harassment scandal. That is, providing even an ounce of it is true. The story, ...
July 5, 2010
The 2010 NFL season is looming on the horizon, and many fans are rabidly awaiting its arrival. But rumbling in the distance are the storm clouds that may likely change the ...
April 13, 2010
It appears as if the Pittsburgh Steelers organization was hit with the proverbial double-whammy as both its starting quarterback Ben Roethlisberger and its number two (on the verge of number one) wide receiver ...