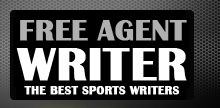 Yankee Addicts
Categories
Featured Sponsors
News published by BRtv
February 4, 2014
Prior to the Super Bowl, Eli Manning hosted the "Purina Pro Plan MANning vs. DOG Challenge" in New York City to promote Purina's newest product.  Purina Pro Plan has launched PRiME ...
January 29, 2014
Soon after the AFC and NFC Championship games ended this year, Super Bowl XLVIII tickets hit an unprecedented mark making it the most expensive Super Bowl ever to attend. Now ...
January 21, 2014
Seattle Seahawks head coach Pete Carroll said to 710 ESPN Seattle radio that he's "counting on" wide receiver Percy Harvin returning from injury for Super Bowl XLVIII against the Denver Broncos, according to ...
December 28, 2013
Week 17 Madden 25 previews are here! We have all of the weekend's games simulated for a sneak peek at who will come out on top. Will the Miami Dolphins dispatch the New ...
December 18, 2013
It's a simple fantasy mantra: "Stick with your stars, and they'll produce when you need them to." Well, when your so-called star seems to be putting together a streak of poor ...
December 17, 2013
If you're watching this video, you're either a future fantasy HOFer...or you're still in denial after Week 15 (thank you, Justin Tucker). Assuming you fall into the first category, congratulations on ...
December 17, 2013
Plenty of coaches have had impressive seasons in 2013. Whether it is a rookie coach like Chip Kelly, a veteran in a new home like Andy Reid or a man ...
December 17, 2013
Who's on upset alert in Week 15 of the NFL season? In the video above, NFL analyst Josh Zerkle gives you five teams that should proceed with caution. Your team could be favored in Vegas, ...
December 17, 2013
Some NFL teams are destined to lose this week because their opponents are some of the best in the league. Other teams are just plain terrible. Whatever the case may be, NFL analyst ...
December 17, 2013
You drafted Matt Ryan to be your starting quarterback, but this season, between a banged-up receiving corps and a few too many interceptions, he hasn't exactly been a fantasy stud. ...