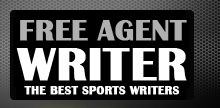 Yankee Addicts
Categories
Featured Sponsors
News published by
December 26, 2015
The last time the Carolina Panthers played the Atlanta Falcons, things were over quickly. Two weeks ago, the teams met in Charlotte, North Carolina, and the Panthers laughed their way ...
November 7, 2015
On Sunday, the Carolina Panthers are going to try to do something that hasn't been done since 2010—make an Aaron Rodgers-led Green Bay Packers team drop back-to back-games. While the Packers ...
October 17, 2015
If the Carolina Panthers are going to match their best start in franchise history, they're going to have to do something they haven't done since 2007: defeat the Seattle Seahawks. The ...
September 19, 2015
Last season, the Carolina Panthers started on the road in Florida and picked up a victory.  They followed that up with a convincing, double-digit win in their home opener to ...
September 12, 2015
Historically, the Carolina Panthers have not had great starts to their seasons under head coach Ron Rivera. Rivera's Panthers are just 1-3 in opening games since he took over the ...
September 3, 2015
Even by preseason standards, the fourth preseason game of the year is a relatively dull affair to watch.  When the Carolina Panthers (2-1) take on the Pittsburgh Steelers (1-3) on ...
August 29, 2015
There would be no Joe Webb magic this week. For the first time this preseason, the Carolina Panthers walked away on the short end of the stick, as the New England ...
August 25, 2015
Now that they are two games into the preseason slate, we can start to get a better grip on the San Francisco 49ers' cornerback competition.  We have snap counts for ...
August 24, 2015
San Francisco 49ers running back, kick returner and former Australian rugby league superstar Jarryd Hayne is all that's been advertised and more so. One week after rushing five times for 63 ...
August 23, 2015
The Carolina Panthers staged a second-half comeback to beat the Miami Dolphins 31-30 in their home preseason opener Saturday night, though it was far from pretty. If you had predicted the ...