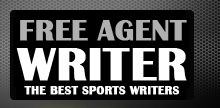 Yankee Addicts
Categories
Featured Sponsors
News published by
September 26, 2010
Whether you're 2-0 or 0-2, we all face lineup questions each and every week.  I'm here to try and guide you through the pitfalls and help you find the not-so-obvious ...
September 1, 2010
1-Drew Brees Why not? It often seems as if people want to take chances simply for the sake of taking them. When drafting in the first round, your goal is to ...
April 5, 2010
The Washington Redskins traded for former Philadelphia Eagles Pro Bowl QB Donovan McNabb Sunday night. The Redskins reportedly gave up the 37th overall pick in the 2010 NFL Draft and a ...