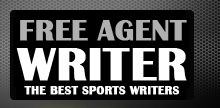 Yankee Addicts
Categories
Featured Sponsors
News published by
January 20, 2011
Hue Jackson reminded us that "We're building a bully" in Oakland. He wants his team to be aggressive and he wants it to dominate. It is likely that "Coach" Davis will ...
December 1, 2010
Just how good is Jacoby Ford? Ford was born in Florida and attended Clemson University, where he was a track and football star. Al Davis and the Oakland Raiders have a reputation ...
November 29, 2010
   The Oakland Raiders' Pirate ship has been holed below the water line and is sinking fast. Trying to sure up the holes won't do anymore–there is too much structural damage. Ahead, ...
November 19, 2010
This weekend's match-up in Pittsburgh between the Oakland Raiders and the Steelers turns back the years. It is old school. It is in your face, smash-mouth football and it has ...
November 12, 2010
The last three weeks has been a heck of a ride for the Oakland Raiders. They have destroyed past and present AFC West rivals 115-37 dominating on both sides of ...
November 5, 2010
The Oakland Raiders have been nothing short of phenomenal at setting the tone in the last four games. If you look at the first four possessions for each side, you ...
November 2, 2010
At the end of training camp, Oakland Raider's offensive coordinator Hue Jackson referred to the mind-set in Oakland by saying, "we're trying to build a bully here." This bullying was not ...
October 31, 2010
The day has arrived! This has been a long seven years for the Raider Nation. But it ends today. No more false dawns, no more building for the future, no more ...
September 25, 2010
The problem is fairly obvious—the Raiders are struggling with their pass blocking. The symptoms are too many penalties and too much pressure on the quarterback. Without a workable solution, the ...
June 16, 2010
"We will be doing something different this year."   So said coach Tom Cable of the Oakland Raiders Defense in 2010. But at the end of Organized Team Activities (OTAs), we ...