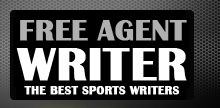 Yankee Addicts
Categories
Featured Sponsors
News published by
September 27, 2010
It always goes that way, does it not? The one constant has always been Bill Ford. It is the only discernible fact in the futurity of the franchise. Despite all the coaches, ...
June 26, 2010
The Kitty Cats are getting ready for another season of Cat droppings. The typical scenario is legion, scripted through the annals of futility, decades of broken promises, chest pumping rhetoric, ...
June 19, 2010
A pop quiz for all the Detroit Lion cheerleading squad. What fourth year wide-out is still characterized by using excuses? What third year Tackle mimics a fairly tale of the cowardly Lion ...