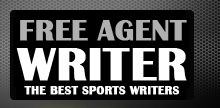 Yankee Addicts
Categories
Featured Sponsors
News published by
March 27, 2011
Moving the Chains: Tom Brady and the Pursuit of Everything by Charles P. PierceFarrar, Straus and Giroux, 2007ISBN-13: 978-0374214449 This is undoubtedly one of the oddest biographies I have ever ...
January 18, 2011
The New England Patriots' 28-21 loss to their hated rival New York Jets in the 2010 divisional playoff round is a bitter, bitter pill to swallow for Patriots fans.  But ...
November 28, 2010
Then Belichick Said to Brady: The Best New England Patriots Stories Ever Told by Jim Donaldson Triumph Books 2009 There are so many "The Best Stories Ever Told" books about the New ...
November 27, 2010
The Best Show in Football: The 1946-1955 Cleveland Browns, Pro Football's Greatest Dynasty by Andy Piascik Taylor Trade Publishing 2007 This is an extremely comprehensive history of the Cleveland ...
November 17, 2010
Michael Vick I hereby officially and unequivocally eat my words.  When Michael Vick took over the starting job for the Philadelphia Eagles, I said he would never be more than a ...
November 7, 2010
Nearly every NFL season has its soap operas, usually revolving around diva wide receivers. Terrible Terrell Owens, Chad "Ochostinko", Keyshawn Johnson, and Randy Moss have provided good fodder for years.  But ...
October 18, 2010
This year the race to the Super Bowl is wide open. There are no dominant teams. Last year at this time one would likely have said the ...
October 8, 2010
The big theme of the last two weeks was the huge days wide receivers have put up, with Terrell Owens of the Cincinnati Bengals snagging 10 catches for 122 yards ...
September 11, 2010
First, my apologies to Glenn Card who gave me his picks a week ago and I am just now getting them posted.  12-14 hour work days unexpectedly interceded ...
August 8, 2010
Blood, Sweat and Chalk, The Ultimate Football Playbook: How The Great Coaches Built Today's Game by Tim LaydenTime Home Entertainment, 2010ISBN 13: 978-1-60320-061-5 This is a book for professional football fans ...