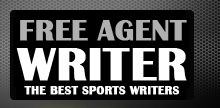 Yankee Addicts
Categories
Featured Sponsors
News published by
May 1, 2011
The 2011 NFL draft is in the books and as far as the Denver Broncos fans are concerned, it has brought a welcome change in draft philosophy and approach.In this ...
March 25, 2011
The upcoming April draft is rapidly approaching, and whether or not these soon-to-be millionaires will be in attendance, teams will call their names.  Some teams, some more than others, will ...
March 24, 2011
The Denver Broncos are trying to reconnect with a fan base that was used and abused by former Head Coach Josh McDaniels. His dealing and seemingly careless attitude towards this franchise's ...
March 22, 2010
Hello Bronco Nation, it has been a while since I last wrote an article about the Broncos and with good reason.  I have spent a lot of time now trying ...