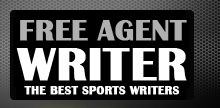 Yankee Addicts
Categories
Featured Sponsors
News published by
April 19, 2011
Last week, Matt Barrows of the Sacramento Bee tweeted on speculation of a scenario in which the San Francisco 49ers and the Washington Redskins could switch first-round picks. Most of the ...
April 9, 2011
For the Miami Dolphins, Mark Ingram seemed to be the favorite for the fifteenth overall pick. Running back will be a huge need once free agency picks up and with Ricky ...
April 9, 2011
Da'Quan Bowers was in the running to go first overall in the 2011 NFL draft leading up to the combine. Once the top high school prospect, Bowers had an average ...
April 9, 2011
It seems just about all of the 49ers Faithful are set on Patrick Peterson being their man if available at seven. For more insight on Peterson to the Niners, click ...
March 28, 2011
With a month until the draft, more mock drafts are being published. Without any players being considered "locks" for a specific team, mocks are very intriguing. The San Francisco 49ers are ...
February 22, 2011
This week begins the NFL Scouting Combine. All week top college players with draft hopes will display their speed, strength and athleticism to try to boost their stock. Some stocks ...
January 22, 2011
The San Francisco 49ers have some holes to fill both offensively and defensively. The 2011 draft class is pretty solid with tons of talent the 49ers can bring in to help ...
January 16, 2011
The Green Bay Packers just had a huge upset win over the No. 1 seed in the NFC—the Atlanta Falcons. The first quarter in a half was a shootout, but it ...
January 13, 2011
It has been reported that earlier today 49ers offensive coordinator Mike Johnson signed with the UCLA Bruins to become their new offensive coordinator. This move make sense for Johnson because he ...
January 12, 2011
So the San Francisco 49ers signed a new head coach last week, what's next? 1.) Adjust any coaches on the staff Jim Harbaugh does not approve of. 2.) Finally find a franchise ...