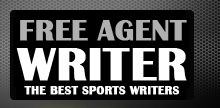 Yankee Addicts
Categories
Featured Sponsors
News published by
April 22, 2010
Head to North and South of Royal Brougham for live draft coverage.   1. St. Louis: Sam Bradford, QB, Oklahoma The Rams are in desperate need of a quarterback and a franchise ...
April 16, 2010
For more articles like this, and analysis on all Seattle sports, check out North and South of Royal Brougham With a new regime in the Seattle Seahawks' front office and an ...
April 11, 2010
For More articles like this one, and for other analysis on Seattle sports check out North and South of Royal Brougham With NFL salary slotting looming, this year's draft should be ...
March 28, 2010
Public perception of the Charlie Whitehurst trade has been exaggeratedly negative, and most of the reason for it is baseless. Seattle Seahawks acquired Whitehurst for a 2011 third-round pick, and swapped ...
March 6, 2010
The Seahawks are in the market for a disgruntled receiver, with a first round pick as the expected bounty. Where have we heard this before? When the Seahawks, and then General ...
February 26, 2010
The entire NFC West is shopping for quarterbacks, at least in some capacity, and the future of the division likely rests simply on who shops best. For the past two seasons, ...
February 19, 2010
The NFL combine often times represents a turning point for many team's player evaluation. While it is rarely a make or break weekend, as teams watch hours of game tape ...