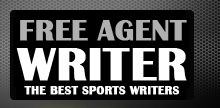 Yankee Addicts
Categories
Featured Sponsors
News published by
August 6, 2010
I have heard many non Packer fans, and even some sceptical Packer fans, say they are tired of hearing how great the Packers are now. These people generally seem to ...
August 4, 2010
Many different people have a different idea of what a "perfect day," or "El Gaupo," means for them. For some, a sunny summer day spent at the beach might be their ...
January 7, 2010
Too long have I had to listen to the same boring drivel. Peyton Manning this, Peyton Manning that. Tom Brady this, Tom Brady that.  How talented the AFC is. How dominant they are. How ...