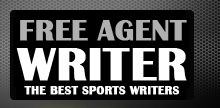 Yankee Addicts
Categories
Featured Sponsors
News published by
April 8, 2010
"Ladies and gentlemen, boys and girls, children of all ages! Step right up and see the biggest spectacle of the NFL off-season since the San Diego Chargers cut wide receiver Demetrius ...
April 5, 2010
The speculation can finally end. In what could be considered as the most talked about potential trade of the offseason, the Philadelphia Eagles have traded six-time Pro Bowl QB Donovan Mcnabb ...
March 9, 2010
Not even 24 hours after Mike Holmgren traded a 2011 trade pick for Seattle Seahawks backup quarterback Seneca Wallace, the Cleveland Browns have cut Derek Anderson. It was expected that the ...
March 9, 2010
Seneca Wallace has been traded by the Seattle Seahawks to the Cleveland Browns, ESPN's Adam Schefter reports. It's assumed that Wallace will not be a long-term answer for the quarterback position, ...
March 5, 2010
Just a little more than an hour before free agency begins, the New York Jets have made a deal with the San Diego Chargers to receive cornerback Antonio Cromartie in ...