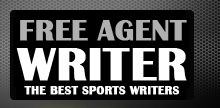 Yankee Addicts
Categories
Featured Sponsors
News published by
January 9, 2011
The Seattle Seahawks continue to make history. They earned their spot in the playoffs as the first losing team to win a division, and playing in front of the 12th Man at ...
December 31, 2010
The Seahawks play their biggest game of the year on Sunday night, and it's not because the NFC West is on the line. Seattle's future as a competitive NFL team is ...
March 9, 2010
Now that Seahawks' career backup Seneca Wallace has been reunited with his former head coach in Cleveland, the immediate follow-up question becomes: In which round does Seattle select a quarterback, and more importantly who's ...
March 6, 2010
Brandon Marshall continues his NFL tour Saturday in Seattle, and it couldn't have come at a better time for the Seahawks, who are in desperate need of a play-making wide ...