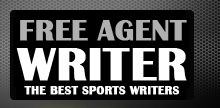 Yankee Addicts
Categories
Featured Sponsors
News published by
April 24, 2011
It's been a long time since the Cleveland Browns were a relevant franchise in the NFL. This once proud organization has suffered through a largely miserable 12 years since rejoining ...
September 22, 2010
Who was it that once said "Winning isn't everything, it's the only thing"? Oh yeah, former Green Bay Packers coach Vince Lombardi said that. Before him, it was originated by ...
August 12, 2010
Every year in the NFL, a handful of relatively unknown rookies emerge from the shadows of training camp obscurity. These are players who come into the league with no real ...