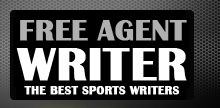 Yankee Addicts
Categories
Featured Sponsors
News published by
January 10, 2015
After an awesome December and start to January, the Carolina Panthers saw its winning streak snapped at five games. The 31-17 loss to the Seattle Seahawks ended the Panthers' season ...
January 4, 2015
The Carolina Panthers will be playing next week in the divisional round of the NFC playoffs. By defeating the Arizona Cardinals 27-16, the Panthers secured their first postseason win since 2005 ...
January 3, 2015
The Carolina Panthers defeated the Arizona Cardinals 27-16 Saturday evening to advance to the next round of the NFC playoffs. The game was a close affair going into the half, ...
June 14, 2014
The Carolina Panthers are about to begin minicamp and eventually training camp later this summer. As the regular season approaches, storylines and predictions will become more commonplace, and the Panthers ...
April 26, 2014
The Carolina Panthers was established in 1993 and played its first season in 1995.  After 19 seasons, the Panthers have drafted 150 players and have seen their fair share of ...
February 8, 2014
The 2014 schedule for the Carolina Panthers has yet to be released. However, their opponents have been decided and it is worth taking a look at which games could be ...
December 4, 2013
This upcoming Sunday could arguably be the NFL's game of the year (of the regular season). The red hot Carolina Panthers (9-3) will travel south to take on their division rivals, ...
November 20, 2013
Amid the controversy that surrounded the conclusion of Monday Night Football featuring the New England Patriots (7-3) and the host Carolina Panthers (7-3), one thing was for certain: The Panthers are ...
July 16, 2013
During the last several days, the NFL world was let in on a little secret: players can be fans of other teams outside the one they play for during the ...
June 22, 2013
Fantasy football is around the corner and it won't be long before leagues all around the world begin drafting their teams.  The Carolina Panthers offer a few names of interest ...