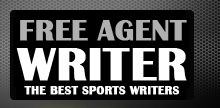 Yankee Addicts
Categories
Featured Sponsors
News published by
September 22, 2010
Braylon Edwards was arrested on September 21st for a DWI after blowing a 0.16 on the breathalyzer. Edwards' reading was twice the legal limit. Edwards didn't just break the law, ...
September 15, 2010
Today, former NFL tight end and current CBS Sports football analyst Shannon Sharpe announced that he would be taking a leave of absence from his job. The reason? Sharpe was ...
August 23, 2010
To win a fantasy football league, you need strong performances from your blue chip, early-round studs.But almost every team in a fantasy league has one or two Pro Bowl talents. ...
August 18, 2010
Brett Favre's announcement this afternoon that he will indeed be playing football in the 2010-11 season came as a shock to very few football fans. Favre's most recent indecisive offseason ...
August 11, 2010
At 10 PM tonight, the new season of Hard Knocks on HBO begins.Past seasons have covered the training camps of the Baltimore Ravens, Jacksonville Jaguars, Kansas City Chiefs, and Dallas ...
August 11, 2010
On August 10th at midnight, Madden NFL 2011, the newest edition of the Madden series, was released to the public in North America. When the Madden series began in 1988, it ...