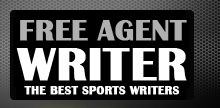 Yankee Addicts
Categories
Featured Sponsors
News published by
May 24, 2010
Much has been made about the Brian Cushing saga. From his four game suspension for violating the league's policy for performance-enhancing drugs, to the AP re-voting on his rookie of ...
May 21, 2010
The NFL Draft is the ultimate crap-shoot. No matter how much scouting is done, there are bound to be busts. From the first pick to the last pick, there is no guarantee ...
May 20, 2010
Bust. The word gets thrown around a lot come draft time. Memories of Ryan Leaf and Tony Mandarich come back and haunt the dreams of NFL General Managers. Every team ...
May 20, 2010
Chris Johnson and Andre Johnson share more than the same last name. They both want new contracts. And who can blame them. The NFL is a cruel game and you have ...
May 17, 2010
Immediately following the NFL Draft all of the pundits race to criticize the teams that they think dropped the ball. This year was no different as the pundits ripped ...
February 24, 2010
Yesterday marked the end of an era in San Diego, when the Chargers released LaDainian Tomlinson.  The move was expected—and frankly, a year overdue. The L.T. we saw last year was ...