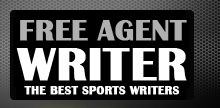 Yankee Addicts
Categories
Featured Sponsors
News published by
May 16, 2012
It's time to let Tarvaris Jackson go. It's simply unfair to go through the charade of including him in a quarterback competition everyone knows he will not win. And it's ...
February 26, 2011
Fans and media have been rumbling for three years about replacing Matt Hasselbeck.   This year, the rumblers are calling for the Seahawks to draft hometown hero Jake Locker or ...
January 15, 2011
There's a good reason no one predicted the Seattle Seahawks would score 41 points last weekend: They hadn't done it all season. They had come close to 40 points just once ...
January 4, 2011
Just before this season started, referee Bill Leavy apologized for the bad calls that conspired to help the Seahawks lose Super Bowl XL. Little did the Seahawks know that Leavy's apology ...
December 26, 2010
As odd as it is to contemplate, the Seahawks' game against Tampa Bay this weekend might not even matter. And, even weirder, the Hawks should actually be rooting for the ...
December 26, 2010
There has been a lot of hand-wringing around the NFL about the fact that a 7-9 team might make the playoffs for the first time. One thing is for sure: ...
November 21, 2010
As the Seahawks come off their best offensive performance of the season and prepare to take on the reigning Super Bowl champs, people are trying to figure out which team ...
October 29, 2010
Through the first six games of Pete Carroll's first season, we've seen the impact he has had on the Seahawks defense. We've seen new end Chris Clemons sack opposing quarterbacks 5.5 ...
October 17, 2010
As the Seahawks' extended 2011 preseason gets set to resume after a week off, it looks like the offense finally has settled on the pieces it is going to evaluate ...
October 10, 2010
If you're getting tired of Pete Carroll and John Schneider playing roster roulette, you can take solace in the fact that things might settle down a bit a week from ...