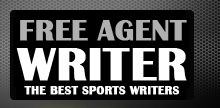 Yankee Addicts
Categories
Featured Sponsors
News published by
May 1, 2016
The 2016 NFL draft is over, and the Pittsburgh Steelers have seven new players on the roster. As expected, general manager Kevin Colbert and head coach Mike Tomlin focused on the ...
April 30, 2016
The opening three rounds of the 2016 NFL draft have seen the Pittsburgh Steelers rich with defensive prospects. The secondary was transformed with the addition of Artie Burns and Sean ...
April 29, 2016
The opening round of the draft is over and the Pittsburgh Steelers got their cornerback. As a result, the cornerbacks slid down the draft board while safeties, defensive linemen and ...
April 28, 2016
With a team already full of talent, the Pittsburgh Steelers will look to add the final pieces to what could be a title-contending roster in this year's draft. For general manager ...
April 25, 2016
With only a few days until the NFL draft, it is only a matter of time before the Pittsburgh Steelers select the best defensive prospect available—or so we think. A defensive ...
April 18, 2016
With less than two weeks until the 2016 NFL draft, general manager Kevin Colbert has a clear plan in mind for the Pittsburgh Steelers. Already with a championship-caliber offense in ...
August 18, 2015
At the onset of training camp, head coach Mike Tomlin was excited at the prospect of having an extra week of practices to prepare for the regular season. Now as the ...
August 12, 2015
After an entire offseason program, the Pittsburgh Steelers' 2015 rookie class finally had a chance to put on the pads and show what it can do in a professional game. The ...
February 21, 2015
The 2015 NFL Scouting Combine is football in shorts at its finest, as the top collegiate prospects undergo numerous workouts under the watchful eyes of NFL head coaches and general ...
February 18, 2015
The start of NFL free agency is still over three weeks away, but the Pittsburgh Steelers have already begun to map out a plan. Kevin Colbert and Mike Tomlin have ...