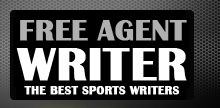 Yankee Addicts
Categories
Featured Sponsors
News published by
March 20, 2010
I'm aware of what most critics of my article are thinking, questioning my sanity. But what if the San Diego Chargers perform another blockbuster trade like in 2004? We can trade ...
March 20, 2010
Today, we are talking about Norv Turner's offense and breaking it down. It is also known as Norv West Airlines, West Coast Offense, Coryell Offense , or Vertical Offense. It has ...
March 20, 2010
There has and is still controversy now since the San Diego Chargers hired Norv Turner. There's even a website that wants Norv Turner fired. Sure, he is no Vince Lombardi ...