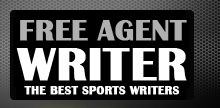 Yankee Addicts
Categories
Featured Sponsors
News published by
December 23, 2012
Calvin Johnson is now the NFL's single-season record holder for receiving yards, eclipsing the greatest wideout of all time, Jerry Rice, in the process. However, Johnson's record-setting season still isn't ...
December 23, 2012
Week 16 of the NFL season is a perilous time. NFL teams are vying for playoff berths and fantasy owners everywhere are battling to stay in the postseason. So much ...
December 9, 2012
Robert Griffin III looked like a Hall of Famer as he led the Washington Redskins down the field in victory against the New York Giants. And with that win, the ...
November 17, 2012
It's Week 11 of the NFL season, and at this point playoff races are getting heated and the contenders are starting to separate from the pretenders. Still, every week there ...
November 17, 2012
Week 11 of the fantasy football season is upon us, and as your team battles for a playoff spot, the decisions on who to play become tougher and tougher. This ...
October 28, 2012
Week 8 is full of outstanding NFL matchups. Robert Griffin III will lead Washington against the Steelers. The Cowboys will take on the Giants in a division showdown. The battle ...
October 10, 2012
Five interceptions later and once again the Tony Romo bashing has started. However, no matter how much flack he takes, he will remain the Dallas Cowboys starting QB in 2013. ...
August 4, 2012
Dallas Cowboys rookie Morris Claiborne will be out of training camp for a week because of a sprained medial-collateral ligament in his left knee according to a report from ESPN. ...