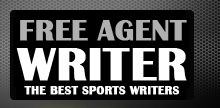 Yankee Addicts
Categories
Featured Sponsors
News published by
April 23, 2011
Leading up to the draft, the bulk of the discussion focuses on the first-round and second-round prospects.  In particular, the quarterback derby has been the story of the pre-draft season. It ...
April 12, 2011
With the 2011 NFL Draft fast approaching, mock drafts are entering hyper-drive in attempt to solve the riddle that is the first round. The draft season running from January-April is a ...
April 4, 2011
In a draft where a middling collection of quarterbacks have draftniks a-twitter and AJ Green and Julio Jones battle for top wideout supremacy (Green's the better prospect and it's not close), the ...
February 27, 2011
NFL Draft101 is providing a Scouting Combine Live Chat (11 am - 2 pm daily), but we will also recap the day's biggest stories as well.  Here is the buzz ...
February 25, 2011
With Cam Newton's decision to fully participate in the 2011 Scouting Combine, the Tim Tebow mantle has been officially passed to Newton (remember the wall-to-wall coverage of Tebow ...
February 23, 2011
The NFL Scouting Combine is arguably the strangest sporting event of the year as 300+ guys run around in tight pants performing a combination of fitness tests and ...
February 12, 2011
As the 2011 NFL Draft comes into focus, a "Perfect Storm" appears to be forming at the quarterback position.  Consider the following: - Never have teams been more needy at the ...
December 22, 2010
Championship weekend is here, if you are reading this, it likely means you have a meaningful game this weekend or just can't let go of the fantasy season.  After all, ...
December 8, 2010
Week 13 is in the books as the regular season nears its final weeks.  The fantasy regular season has ended or is near its end, meaning the time for ...
December 1, 2010
Week 12 is in the books and the regular season nears its final weeks. With some NFL teams' season virtually over, be sure to keep an eye out for young ...