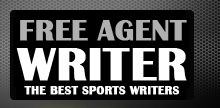 Yankee Addicts
Categories
Featured Sponsors
News published by
July 19, 2010
Coming off another disappointing season in 2009, the Seattle Seahawks had to make some drastic changes in order to try to take back the division they ruled over for nearly ...
March 31, 2010
To quote Pittsburgh Steelers wide receiver Santonio Holmes via Twitter towards a fellow member: "y u tryna make me look like the bad guy. U shud try finding the worst ...
March 23, 2010
Punter Daniel Sepulveda is becoming well-known to Pittsburgh Steelers fans as a solid performer on the field. His ability to pin the opposition inside the 20 is well-documented, and although ...
March 19, 2010
I usually never write articles with a "bloggish" type feel, but the current coverage on Bleacher Report seems to be bringing it out in me. In joining the Pittsburgh Steelers community ...
March 17, 2010
It seems as if Hines Ward has been around forever. And, for the most part, he has. In fact, the Pittsbugh Steelers receiver is recognized as the longest-tenured wide receiver still playing ...
March 11, 2010
All 22 starters from the 2009 season will return next year for the Pittsburgh Steelers. Get out your sad faces Pittsburgh fans, you're going to have to use them again come January ...
March 9, 2010
The Pittsburgh Steelers have agreed to a three-year contract with free agent Antwaan Randle El, former wide receiver of the Washington Redskins. Great. Now Steeler Nation is going to be excited about this one. Seriously, ...
March 8, 2010
Ben Roethlisberger is not a leader. No, not after this one. To think one might learn the first time, well, maybe it will take the second time. Regardless, Roethlisberger's legal troubles and sexual assault ...