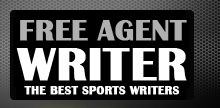 Yankee Addicts
Categories
Featured Sponsors
News published by
January 17, 2017
The 2017 Super Bowl is all about legacy. Most championship games are, though this one feels a bit a different. So it goes when Aaron Rodgers, Matt Ryan, Ben Roethlisberger and ...
January 16, 2017
The four teams eliminated from the postseason in the divisional round could write lengthy postmortems—but it is better to start looking ahead to a loaded draft class.  Fans can handle the ...
January 15, 2017
Saturday's playoff games were a continuation of the opening round, where predictable outcomes reigned supreme.  Sunday ends the fun. Fun, because bettors had it easy. Yes, the Atlanta Falcons would cruise at ...
January 14, 2017
For now, Myles Garrett looks like the top pick in the 2017 NFL draft and Mitch Trubisky and Deshaun Watson look like the top quarterbacks.  Again, that's for now. Things change around ...
January 13, 2017
The NFL playoffs get a dose of much-needed intrigue in the divisional round after a ho-hum start. Nevertheless, postseason football is postseason football, and the upcoming free agency and NFL draft elements ...
January 13, 2017
NFL free agency doesn't win championships, but the assets found there round out strong, established cores capable of making postseason pushes. This established background when it comes to the construction of ...
January 12, 2017
The NFL's divisional round is all about rematches. This might be a bad thing in most sports, but it's like a blessing from the football gods in the NFL postseason. Want ...
January 11, 2017
The biggest dominoes surrounding the 2017 NFL draft continue to fall.  It's dual-meaning time. First, the draft order continues to solidify as more teams fall out of the playoffs. The Oakland ...
January 11, 2017
The best candidates for the 2016-17 NFL MVP aren't hard to figure out. As usual, the list reads something like several quarterbacks and a few guys who had huge years as ...
January 9, 2017
Four teams took a bow and exited the NFL Playoffs after the Wild Card Round, joining the already long list of teams currently looking forward to free agency and the draft.  This ...