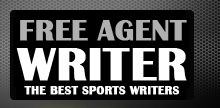 Yankee Addicts
Categories
Featured Sponsors
News published by
January 17, 2017
Today would've been the first day of Derek Carr's preparation for a "Tuck Rule" rematch.  It's just another day of recovery instead—for both the best Oakland Raiders quarterback since that 2001 ...
January 17, 2017
I had my dad on speed dial after I played the Packers back in 2008.  We were the eventual AFC No. 1 seed. The opposing quarterback was a third-year kid with ...
January 13, 2017
I gave Chris Draft the three magic numbers he was inching up to my center to overhear.  Then I sat back and watched the veteran linebacker walk directly into my trap. ...
January 11, 2017
If you didn't enjoy watching blowouts during Wild Card Weekend, you're not alone. But never fear! The top-seeded playoff teams are ready to suit up, and judging by the NFL's recent ...
January 9, 2017
What did we learn from the most lopsided NFL Wild Card Round since 1981?  The same lesson I learned growing up around my dad's Giants teams or playing alongside some all-time ...
January 6, 2017
Fake crowd noise didn't work.  Loud music didn't work. Even a random air-horn blast from Tennessee Titans offensive line coach Art Valero failed to prepare us for the Seattle Seahawks' home crowd. ...
January 4, 2017
I didn't start studying game film so I could be an NFL quarterback or a Bleacher Report analyst. I started because that's all I knew.  My home away from home growing up? ...
January 3, 2017
I avoided the paper stack in my locker like it was a bad final report card.  Because that's exactly what it was. John Shoop, my quarterback coach with the Buccaneers back ...
December 29, 2016
The best season of my career wasn't supposed to end with a Ray Lewis "Squirrel Dance." But it did—and the answer to why my Titans veered off our Super Bowl course ...
December 27, 2016
I had to see the quarterback my coaching friends up in Oakland were raving about. So I flew out to Raiders training camp in the summer of 2014. I watched the ...