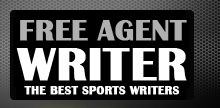 Yankee Addicts
Categories
Featured Sponsors
News published by
December 24, 2010
The Pittsburgh Steelers beat the Carolina Panthers 27-3 this Thursday night. The Steelers now stand at 11-4 and still control their own destiny to clinch a first round bye for ...
November 1, 2010
The Pittsburgh Steelers took a 5-1 record to New Orleans last night and came out losers. Defending Super Bowl champions New Orleans Saints finally looked the part as they defeated ...
September 8, 2010
The 2010 NFL season ready to kick off in less than 48 hours. The tension no doubt is high for all teams.Expectations are lofty, goals seem unattainable, but positive results ...
April 12, 2010
The Pittsburgh Steelers announced Super Bowl XLIII MVP Santonio Holmes has been traded to the New York Jets for a fifth-round pick this morning. Holmes, without a doubt, ...