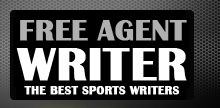 Yankee Addicts
Categories
Featured Sponsors
News published by
February 23, 2014
Running backs aren't held in high regard like they used to be in NFL circles, so what does that mean for Auburn's Tre Mason?  Remember, no running backs were taken in ...
February 14, 2014
Johnny Manziel is the most polarizing quarterback to enter the NFL since Tim Tebow, but he's similarly sized to Russell Wilson and kind of plays like Tony Romo.  That's all. He's bound ...
February 4, 2014
There was nothing prototypical about Kam Chancellor when he entered the NFL out of Virginia Tech in 2010, but now, after four productive seasons with the Seattle Seahawks, he's become a ...
January 22, 2014
Although head coach Pete Carroll recently said Percy Harvin "should be fine," the Seattle Seahawks can't plan to rely on him in Super Bowl XLVIII.  They just can't.  The oft-injured, handsomely paid ...
January 18, 2014
As if covering Demaryius Thomas, Eric Decker and Wes Welker won't be difficult enough for the New England Patriots secondary in the AFC Championship Game, they'll have to deal with ...
January 14, 2014
The New England Patriots and Denver Broncos are pretty evenly matched—their overtime game during the regular season proved that. Tom Brady's Patriots rallied from a 24-0 halftime deficit and were gift-wrapped ...
December 21, 2013
It's the question every Tennessee Titans fan wants answered. Can the team progress with Mike Munchak as the head coach and Jake Locker as the quarterback? Since 2011, when Munchak was hired ...
December 17, 2013
The championships are upon us.  If you're reading this, you've likely successfully traversed the unpredictable realm of fantasy football and are a game away from taking home the title.  While your rosters ...
December 14, 2013
The Jacksonville Jaguars were the NFL's laughing stock until November, but now, they hold the AFC's longest winning streak—three games—and the future appears drastically brighter than it did just a ...
December 10, 2013
The Dallas Cowboys certainly didn't help their playoff chances by allowing 45 points and not forcing one punt in the 45-28 blowout loss to the Chicago Bears on Monday Night Football in ...