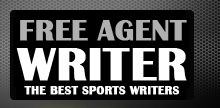 Yankee Addicts
Categories
Featured Sponsors
News published by
April 30, 2010
This team is represented by the best players to ever put on a Pittsburgh Steelers uniform. The players I have selected to this team are Hall-of-Famers and soon-to-be Hall-of-Famers. This team could ...
April 15, 2010
In 2010, the San Diego Chargers could very well fall down the charts in the AFC West. To avoid this, they cannot continue to be a one dimensional passing team. They ...
April 14, 2010
2010 NFL Mock Draft: AFC North Edition The Baltimore Ravens are a few mistakes from becoming AFC Champions, they need depth and definitely need to get younger, and a depleting defensive ...
April 11, 2010
2010 NFL Mock Draft: NFC North Edition Minnesota Vikings are yet to receive negotiation talks from Brett Favre, and should go through this draft in the sense that they won't have ...
April 9, 2010
2010 NFL Mock Draft: AFC East Edition The Jets have few holes to fill, but depth and getting younger will be key to their success to the fearless defense Rex Ryan ...
April 7, 2010
NFC EAST MOCK DRAFT The NFC East has been pretty active this offseason, but the biggest change will be who will they draft in this year's draft. Dallas needs offensive line help ...
March 23, 2010
Restocking the offensive line is a major hole that needs to be filled for the Dallas Cowboys. Dallas could find it in next month's draft at the 27th spot in ...
March 15, 2010
Top 10 Greatest NFL Players Who Have Never Won a Ring Getting a Super Bowl ring can be the one thing standing between a player and the Hall of Fame. Some ...
February 21, 2010
The main strength of the draft meets up in the trenches. Ndamukong Suh and Russell Okung are among the elite of the group. I project six down-linemen to go in ...