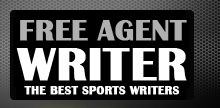 Yankee Addicts
Categories
Featured Sponsors
News published by
October 2, 2013
Well, October is here once again and apparently that means another month of the obvious, at least if you're an NFL football fan. We once again have to be reminded ...
August 24, 2013
As much as we would all like to see it, it's unlikely that the Dallas Cowboys rushing attack takes over against the Cincinnati Bengals, at least not while the upper ...
August 17, 2013
So, training camp has come and gone for the Dallas Cowboys in 2013 and I can still ask an easy question: Where is Gavin Escobar? This was the pick that made ...
August 11, 2013
There was plenty to like and dislike following the second preseason game for the Dallas Cowboys. Traveling to Oakland to take on the Raiders, as Dallas always seems to do during ...
August 7, 2013
It's refreshing that some new and young faces are making an early impact at Dallas Cowboys training camp in Oxnard, Calif. This was expected to be the case, but now ...
July 28, 2013
The Dallas Cowboys are one week into training camp in Oxnard, Calif. and are already scrambling to find bodies for the defensive line. One of their new bodies looks good ...
July 20, 2013
The Dallas Cowboys' training camp begins this weekend in Oxnard, California and here's a feel-good story that has just popped up. According to Todd Archer of ESPN.com, the son of former NBA ...
July 16, 2013
Expect to see some surprising efforts from a number of players at Dallas Cowboys training camp in Oxnard, California. Dallas has the benefit of not only a new crop of players ...
June 28, 2013
Dallas Cowboys second-year defensive end Kyle Wilber doesn't have much to display on his NFL resume. Following his rookie year in 2012, the former defender from Wake Forest has four ...
June 18, 2013
Are you a Dallas Cowboys fan? Are you sure? Personally, I have been accused of being a Cowboys ''hater'' because of what I write on Bleacher Report. At the risk ...