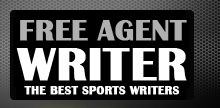 Yankee Addicts
Categories
Featured Sponsors
News published by
August 6, 2010
Players that have the ability to succeed in any situation are a rare, if not unattainable commodity. Each NFL team does things differently, whether it be coaching, contract negotiations, or personnel ...
July 30, 2010
There are numerous benefits to being a first round pick in the NFL. A big first contract, guaranteed money, snaps with the first team players, extra attention from the coaching ...
July 22, 2010
Let me preface this in saying, I have the utmost respect for all those that suit up on Sundays and play the most physically demanding of all professional sports. I also ...
June 4, 2010
"You look good, you feel good. You feel good, you play good" -Deion Sanders This slideshow will rank the aesthetics of current NFL uniforms. Although it has no direct impact on the teams ...
May 31, 2010
Like it or not, the NFL offseason is a time for rumors. Football fans can't talk about on-field activities, so we delve a little deeper into things happening off the ...
May 23, 2010
Numerous players who remain unsigned through the first several weeks of the free agency period. Reasons varying from age, lack of production, injuries or character concerns are keeping most of the ...
May 16, 2010
If we evaluate JaMarcus Russell based on his three years in the NFL, he would be unanimously regarded as the biggest bust in NFL history. That said, NFL teams have never ...
May 4, 2010
Every general manager in the NFL is highly qualified and exceptionally capable of doing their job. As fans, we often feel the need to criticize, even though we don't have comparable ...
April 28, 2010
This isn't a list of the best available undrafted free agents, but rather a list of those who will have the biggest impact with their new team. From Hall of Famers ...
April 26, 2010
Today, for the first time since his meeting with the commissioner, Ben Roethlisberger address the media. In a brief statement, Ben accepted the NFL's suspension and vowed to improve his behavior. The ...