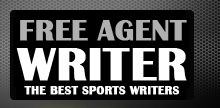 Yankee Addicts
Categories
Featured Sponsors
News published by
May 19, 2010
There's somethings that you just don't tell people; especially a highly read magazine company. ESPN The Magazine has a feature called "Postcards From The Edge." In it, pro athletes provide anecdotes ...
May 3, 2010
Rumors are swirling about former NFL runningback Corey Dillon, and his possible return back to the gridiron. Apparently Dillon is trying to come back to football to play for his original ...
April 18, 2010
The Tennessee Titans' roster is very strong from top to bottom. The weakest area is on the defensive side of the ball, at the defensive end position. The Titans don't send ...
March 8, 2010
ProFootballTalk.com reports that Former Eagles teammates Terrell Owens and Donovan McNabb will be together again in the new season...of Pros Vs. Joes on Spike TV. If you thought this was ...
March 5, 2010
With the NFL free agency period about to start within the next few hours, Antrel Rolle seems to be a very popular man. After being released by the Cardinals, many teams ...
March 1, 2010
Syracuse wide receiver Mike Williams worked out today at the NFL Scouting Combine, and proved he's worthy of being drafted into the NFL. Williams is projected as a third round draft ...
February 26, 2010
As you start making your mock drafts for this year's 2010 NFL Draft, and you're thinking about Dez Bryant, he probably ends up in your 10-15 pick range. But don't ...