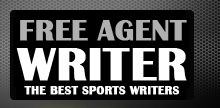 Yankee Addicts
Categories
Featured Sponsors
News published by
March 15, 2010
In Part One of this series, I examined the offensive needs http://bleacherreport.com/articles/362115-2010-draft-preview-pittsburgh-steelers-offense- Offensive Needs that need to be addressed in this year's draft. The primary positions of need fell ...
March 10, 2010
With just more than a month and a half to go until the 2010 NFL Draft, the Steelers are addressing team needs through free agency.    After re-signing Ryan Clark, Pittsburgh is ...
March 7, 2010
As usual, the Pittsburgh Steelers sat back and watched as the rest of the NFL handed out large signing bonuses to sign big name free agents such as Julius Peppers, ...
March 3, 2010
One year removed from a Super Bowl championship, the Pittsburgh Steelers are a team with very few immediate needs. As of today, the Steelers have 20 of 22 starters returning ...
February 26, 2010
With news that the Arizona Cardinals signed Ken Whisenhunt to a four-year contract extension, the question in Pittsburgh is whether or not the Steelers will approach head coach Mike Tomlin ...