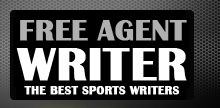 Yankee Addicts
Categories
Featured Sponsors
News published by
July 8, 2010
Note: Photo taken from Cleveland Municipal Stadium, December 1986, Section 60, Browns vs. Colts.   Thanks to NFL Properties, the Dawg Pound lives on. Compared to the Rottweiler it used to be, it's ...
July 4, 2010
NASCAR fans call the period between Homestead and Daytona "silly season." A whole lot of nothing happens and only rule changes, racing teams, and rumors are discussed. NFL fans are now in ...
March 10, 2010
Former Cleveland Browns' QB Derek Anderson lashed out via e-mail to sportswriter Jeff Schudel of the Willoughby, Oh.,  News-Herald after his release.  Anderson called Browns fans "ruthless," citing them cheering ...
January 6, 2010
"If you want me to make dinner, let me buy the groceries." — Bill Parcells, on his desire as head coach to have control of personnel   "You can't make chicken salad out ...