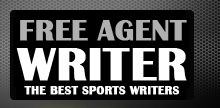 Yankee Addicts
Categories
Featured Sponsors
News published by
October 12, 2010
Jay Cutler has been cleared to practice fully on Wednesday after suffering a concussion causing him to miss last week's game against the Carolina Panthers. Barring a setback, Cutler should ...
September 2, 2010
It seems Jay Cutler is not the only one running in circles on the Chicago Bears. Bears' management has joined Cutler and decided to run around as well. Right back to ...
August 9, 2010
It is nearly impossible to forget a bad haircut. We see it every day when we look in the mirror. It is essentially, for at least a week, a giant curse ...
August 3, 2010
Is there anything better than writing something sports-related, which involves blind speculation solely because people will read it? Ah, nothing like selling one's soul for the sake of circulation. Clearly, making ...
April 26, 2010
Nothing like a two-hour post-draft wrap-up after the three-day draft to make you excited for the NFL season...which is in four months. Forget the fact there are NHL and NBA ...