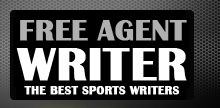 Yankee Addicts
Categories
Featured Sponsors
News published by
December 30, 2010
Now that the Pro Bowl rosters have finally been announced, it's time for everybody to start talking about all of the players who were snubbed. If you read a lot ...
December 13, 2010
I'll admit after the departure of Michael Vick that my watching of the Atlanta Falcons really dropped off. Even in their return to playoffs last year, I rarely had them ...
December 6, 2010
Twelve weeks ago, the Lions lost by five points to the Bears, on a controversial call at the end of the game. Here's the play: http://www.youtube.com/watch?v=uDP0UoWM5ic Clearly, it appeared as though Calvin ...