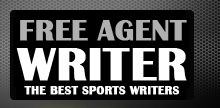 Yankee Addicts
Categories
Featured Sponsors
News published by
September 5, 2015
The Cincinnati Bengals had the fewest sacks of any NFL team last season. A big reason for that was Geno Atkins. Atkins had suffered a torn ACL injury the previous year, ...
August 29, 2015
If Marcus Mariota was looking for the best way to prepare for his rookie season as the Tennessee Titans' starting quarterback, he couldn't have picked better opponents than the Kansas ...
August 21, 2015
Danny Shelton was one of the more polarizing prospects in the 2015 NFL draft. Onlookers essentially fell into two groups. The first group saw Shelton as a Dontari Poe/Haloti Ngata type ...
August 15, 2015
The Buffalo Bills quarterback competition took another step toward a conclusion in Week 1 of the preseason. Tyrod Taylor electrified onlookers against the Carolina Panthers, putting himself in pole position to ...
August 7, 2015
John Schneider and Pete Carroll have earned the benefit of the doubt with the Seattle Seahawks. Their success as a duo in turning the franchise around over such a short period ...
August 4, 2015
Dontari Poe is one of the toughest players to replace in the NFL. The Kansas City Chiefs defender plays a role that is dying in today's pass-heavy NFL. He is a ...
July 17, 2015
One statement was made more often than any other during the 2015 NFL draft. Jameis Winston will have an easier transition to the NFL than Marcus Mariota. While the words weren't always ...
July 10, 2015
If you were expecting Justin Gilbert to be a high-quality starting cornerback in the NFL from day one you were simply being unrealistic. Being effective as a rookie at any position ...
July 3, 2015
The light at the end of the tunnel didn't move closer for the Jacksonville Jaguars last season. Entering the second year of Gus Bradley and Dave Caldwell's reign in Florida, the ...
June 19, 2015
Evaluating NFL quarterbacks is a complex practice. There are 32 quarterbacks in the NFL, but every single player is unique in what he is asked to do and what kind of ...