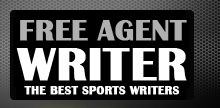 Yankee Addicts
Categories
Featured Sponsors
News published by
January 13, 2013
You can take a breath now. It's over.The game is over.The season is over.The Baltimore Ravens came into frigid Sports Authority Field at Mile High Stadium and outlasted the Denver ...
July 29, 2012
Denver Bronco training camp is officially underway!This is great news for those of us who have been waiting impatiently since last January.For a number of veterans, the start of training ...
July 21, 2012
Yes you read the headline correctly.Peyton Manning will help the Denver Broncos defense.And no, I'm not talking about him playing safety.The Broncos defense was a tough group to figure in ...
May 30, 2012
Think you know everything there is to know about football? NFL fans can be a very knowledgeable group. From knowing history and trivia to knowing statistics and trends, many NFL ...