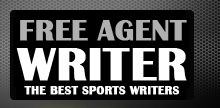 Yankee Addicts
Categories
Featured Sponsors
News published by
May 20, 2015
Chip Kelly spent the offseason molding the Philadelphia Eagles into exactly what he wants in a roster. He cut ties with All-Pro talents and former Andy Reid players, dished out ...
May 6, 2015
Now that the 2015 NFL draft is over, head coach Chip Kelly has four months to prepare his Philadelphia Eagles for a Week 1 matchup with the Atlanta Falcons. Kelly didn't ...
April 29, 2015
There are just two days until arguably the most anticipated draft day in the Philadelphia Eagles' history. What Chip Kelly does could be his defining moment as the team's head coach, ...
April 25, 2015
Not even one week remains until the 2015 NFL draft, and you can bet Chip Kelly won't go down without a fight in his quest to get Marcus Mariota. It's been ...
February 28, 2015
The Philadelphia Eagles confirmed Friday that they have released Todd Herremans. A 10-year veteran and the team's longest-tenured offensive player, Herremans was scheduled to make $5.2 million in 2015. That's a ...
February 4, 2015
Re-signing Jeremy Maclin should be the Philadelphia Eagles' biggest priority this offseason. After all, the 26-year-old posted his finest numbers yet, finishing with 85 receptions, 1,318 yards and 10 touchdowns, ...
January 24, 2015
If last offseason showed Philadelphia Eagles fans anything, it's that there are no guarantees in the National Football League. Fresh off his third Pro Bowl berth, which saw him put ...
January 14, 2015
If anything, the 2015 Philadelphia Eagles offseason should certainly be interesting based on the transfer of power within the organization. Howie Roseman is out as general manager; the team's five-year GM was ...
December 21, 2014
Frustration can't begin to describe the feelings of Philadelphia Eagles fans following Saturday's 27-24 loss to the Washington Redskins. With their season on the line, Chip Kelly and his squad ...
December 20, 2014
The Philadelphia Eagles take on the Washington Redskins at 4:30 p.m. today. The Eagles will need to win this contest and then hope that the Dallas Cowboys lose to the ...